Whoot whoot! Congratulations! We did it. Not only did we meet our fundraising goal this year, but we smashed right through it!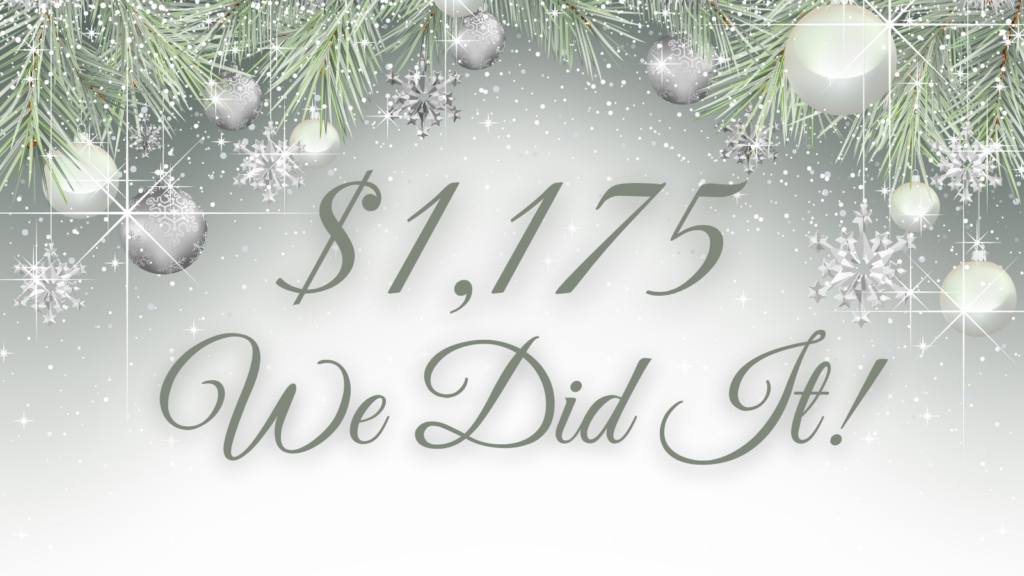 All together we raised $1,175 for the Edmonton Food Bank.
They can turn that into 3,525 meals for people.
Whoot whoot!
Thank you so much to everyone who helped to make this possible. Whether that was by donating directly, participating in the blog tour or helping to boost the signal. It all counts and I appreciate every little bit 🙂
In case you've missed them, I've gathered together all the stops on the blog tour below.
Thank you once again.
Blog Tour Stops:
Laura VanArendonk Baugh — Laura talks about how difficult it is to talk about connections this year, and why that makes it even more important to do it. She's also giving away a short story as a sort of Giftmas present. I've downloaded my copy and look forward to reading it this evening.
JB Riley — JB discusses how connections can be good or bad and then shares a story about a family artifact that helped her feel connected to man who died before she was even born.
Stephanie Weippert — Stephanie's post is about how connections needn't be deep or profound in order to matter.
Beth Cato's post about how the pandemic has changed connections for her and her son brought tears to my eyes — in a good way. You'll definitely want to give it a read.
Meanwhile, Jemima Pett is matching donations, hosting a giveaway and has a quiz about subway connections on her post.
C.S. MacCath blogged about her trip to get home after the global pandemic was declared, and about some of the connections she created, maintained or misses now that she's there.
Lizz Donnelly discusses how the pandemic has impacted her including a new hobby, and an old one.
Kyla Maki blogged about a lot of different changes that have taken place this year and how some of them have impacted how we connect. One of my favourite sections was about how it's changed how we smile.
And Stephanie A. Cain discussed how even the most introverted people need connections with other people and some of the ways beyond social media she's found to make and maintain them.
Paula Johanson has a post about the tour on her blog, and Alexandra Seidel has blogged about some of the upsides and downsides to digital connections over physical ones.