It seemed like a good idea at the time?
I mean, I stand by my decisions, but it does mean that this announcement is going to be a little bit more complicated than it would have been otherwise.
What am I talking about?
This!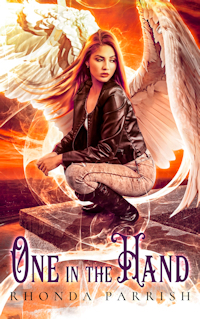 Still confused? Sorry, stay with me… I did mention that I'd accidentally made this more complicated than it needed to be, right?
The thing is, I bought a trio of urban fantasy premade book covers ages ago and had been playing around with story ideas for them ever since but I never actually made the time to start writing them. But then I was invited to contribute something to a 'Magic and Mystery' boxed set.
I've been trying to get more into boxed sets for ages so I was like, "Oh, yes please!" but that meant I needed to actually write something appropriate instead of just thinking about it.
Motivated by the desire to get into the boxed set I made writing my 'Urban fantasy wing thing' my NaNoWriMo project for last year.
And it worked.
At the end of the month I had a rough draft of just over 70k (I think?), after revising it was closer to 67k. And it's good.
Like, it's good enough that I was worried that it was actually horribly, fatally flawed in some way that I was just blind to? But when I asked other people to read it they also said it was good? Which kind of meant I had to stop getting in my own head and just own the fact that it's good LOL
And it was done in time to be included in the boxed set.
So then I needed a release plan, and that release plan is boxed set first. Standalone second.
The book is available alongside full-length work by Megg Jensen, Lilith Saintcrow, Krista D. Ball, Skyla Dawn Cameron and Jane Glatt in this Magic and Mystery boxed set for just a buck!
Secrets mixed with magic can be deadly.
Secrets have the power to protect or destroy. Forgotten lore, mysterious weapons, and magical libraries can be dangerous in the wrong hands. Covert missions, secret societies, and lost memories can provide salvation. Prepare for adventure and unlock the many secrets in MAGIC & MYSTERY!
Delve into these exciting worlds with USA Today and International best-selling authors Megg Jensen, Lilith Saintcrow, Krista D. Ball, Skyla Dawn Cameron, Jane Glatt, and Rhonda Parrish.
This collection of 6 novels includes:
•DAUGHTER OF DRAGON ASH (Artifacts of Indarra Book 1) – by Megg Jensen
•SOLOMON'S SEAL (Livi Talbot Book 1) – by Skyla Dawn Cameron
•A MAGICAL INHERITANCE (Ladies Occult Society Book 1) – by Krista D. Ball
•ONE IN THE HAND – by Rhonda Parrish
•PIRATES & PRIVATEERS (The Intelligencers Book 1) – by Jane Glatt
•DESIRES, KNOWN – by Lilith Saintcrow
Buy it now
And then in June I will release the standalone version with this sweet cover in both electronic and paperback versions 🙂
When a sword manifests in an old folk's home it opens Autumn's eyes to a whole world of magic, gods and giants. But before she has a chance to come to grips with her new reality, Autumn's grandmother is attacked and put in the hospital. Autumn needs to discover what the deal is with the sword and how to protect herself and the people she loves.
And, of course, there's also the matter of the wings that have sprouted from her back.
Can she learn about this new reality and the shadowy forces working within it in time to diffuse the situation before someone gets killed?
Coming in June!
Pre-orders are available:
But honestly, if you're going to get the electronic version I'd suggest the boxed set because the price is absolutely amazing (just a dollar) and you get six books, not just one.
Unnecessarily complicated, right?
That's my bad. Sorry. But live and learn.